Foreign Languages, Translation and Linguistics: Links and Resources
1. Language Translation Sites
2. Learn Foreign Languages
3. Linguistics and Human Languages
4. Online Education Programs
If you want to exchange links…
Option 1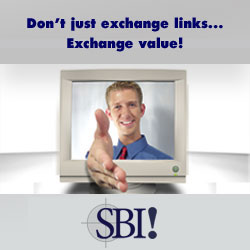 If you want to exchange links, you must be a traffic-seeking webmaster well aware of the importance of links pointing to your site. However, any links will not do. You need links from websites that have quality information related to your website's theme. Such quality links will improve your rankings in search engine results, thus bringing more long-term traffic to your website.
A good way to get quality links is through a link exchange. One big minus of the link exchange is that it can be a time-consuming and boring task. However, the Value Exchange program offered by Site Build It! can save you time and search related websites for you, websites that specifically have indicated that they want to exchange links with matching sites. No searching or begging is required from you! But what's even better is that the program is free. Read more about the Value Exchange program and join it!


Option 2
If you have a high-quality website RELATED to foreign languages, linguistics, translation, or online education, I am happy to add a link to your site within the categories featured on this Foreign Languages Page in exchange for a direct link to Language-Translation-Help.com from your site.
Please DO NOT request a link exchange if:
- You have more than 50 links on the page on which my reciprocal link will be placed
- You are linking not directly, but from a third party website
- It is impossible to navigate from the homepage of your website to the page on which my reciprocal link will be placed in 3 clicks
- Your site is not related to foreign languages, linguistics, translation, and online education
- Your website is not available in English

You should expect to get a reply to your link exchange request within a month. Should I find your link exchange request unacceptable for some reason, I shall not reply to it. No reply means there will be no link exchange with this site.
Before making the link exchange request, please select, copy and paste one of the following HTML codes to your website:
1.
The above code will generate the following link:

Language Translation Help. Get Translation That Works
As any business, the language translation business has its rules and standards. A quick guide will help translation clients to become familiar with these rules in order to get translations of the required standard.
2.
The above code will generate the following link:

Russian Language in Modern World
What is the situation with the Russian language in the modern world? Is Russian as "great and powerful" today as it has been in the 19th century? This page will help to get answers.
3.
The above code will generate the following link:

Language Dictionary
Language dictionary: a look into its origins, what 'dictionary' means as a word, types and families of dictionaries.
4.
The above code will generate the following link:

Translation Jobs
How to stop hunting for translation jobs and start working on your own terms. Information for freelance translators (and other freelancers).
Upon adding the reciprocal link to your site, request a link exchange using this form:


Option 3
Instead of exchanging links, you can get a one way link back from this site to your site. And here is how:
- Go from this Foreign Languages Page to the Have Your Say Page and choose a topic of interest.

- Submit your original story/opinion/thoughts along with your URL. The submission should be of not less than 400 words and should contain original and relevant material. Please DO NOT submit sales pitches, articles of other people or your own article already published on a dozen websites. I reserve the right not to publish materials that I deem low-quality and irrelevant to the theme of this site.

- If your submission is approved, I'll create a page for your submission and place a link back to your site on such page. (The page with a link to you will look like this one.)

Didn't find what you were looking for? Use this search feature to find it.
Return from Foreign Languages Page to Home Page
Back to Top of Foreign Languages Page _____________________________________________________________________ Website owner: Irina Lychak, self-employed freelance linguist, Russian translator, Ukrainian translator, Kiev (Kyiv), Ukraine