What's That Again?
or
Funny Translations
Some mistranslations are fatal, some are just funny translations. Translations, both oral and written, are not always as accurate and faithful as they should be. But let's look on the bright side of things now.
This is the place where you can share stories and photos of funniest translations
They say that Cinderella from a well-known fairy tale received her glass slippers as a result of a translation error. It is claimed that in the original French story Cinderella's slippers were made of vair (the fur of the grey squirrel). A translator supposedly confused this word with verre (glass) thus endowing Cinderella with beautiful glass slippers (by the way, they are crystal in the Russian version of the fairy tale).
Well, forget the fairy-tale slippers. Inaccurate translations sometimes result in much more tangible gifts. So partly thanks to an interpreter's error, the Russian Federation agreed to donate three Siberian tigers (the endangered species) to South Korea. During a visit of an official Russian delegation to South Korea, Koreans told Russian officials about their great interest in Siberian tigers. However, the interpreter mistranslated those words and asked if Russia was willing to donate the tigers. As a result, Russia agreed to make that valuable gift.
***
Please "Slip and Fall Down Carefully" and "Show Mercy to the Slender Grass." The unique mix of Chinese and English known as "Chinglish" produces many funny translations. Here is a handful of funny translations picked up form The China Daily:
Subway signs:
"Fleeing for your life" (the sign tells how to escape in the event of an emergency)
"Your mobile phone on your waist seems like the gifts for thieves"
"Be careful with the bags you take, with more safety in chest"
"If you are stolen, call the police at once"

A restaurant menu:
"The ovary and digestive gland of a crab digs up the cabbage"
"Royal Worshipped Beef"
"Ideas' powder" (that is "Italian spaghetti")
"Choke of cucumber"


Photo by Logan Ingalls Photo by Augapfel/Christopher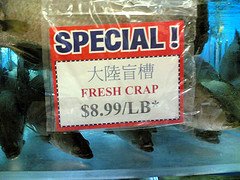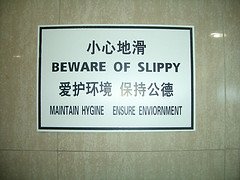 Photo by Ming Xia Photo by Gwydion M. Williams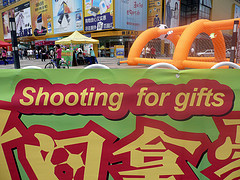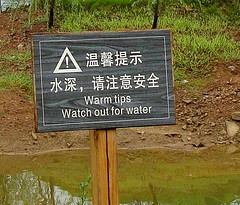 ***
One can find funny translations not only in a Chinese menu (or Ukrainian, or Spanish, or Finnish, etc), but on pages of a reliable news agency as well. Thus, Reuters' translators bravely mistranslated the German word
schwanz
as
penis
(however, the correct translation in that case was
tail
). As a result, Reuters published a remarkable article about an unlucky Lego giraffe model that stood at the entrance to the Lego Discovery Center with its manhood being regularly stolen. Readers were informed that it was a popular souvenir and that the Lego Discovery Center was erecting a "metal construction to protect the giraffe's genitalia." In that way, the
tail
turned into
penis
and the whole story was good for a laugh.
***

English page

Russian page
It turns out that there is an institution named
Piece of advice on studying of productive forces of Ministry of Economics of Russian Federation and RAN
in the organizational structure of the Russian Academy of Sciences. Employees with mysterious prefixes des and ces work on the staff of this institution. By the way, an unintelligible abbreviation RAN also intrigues.
Original Russian pages lift a cloud of mystery from this translation: Piece of advice proves to be Council, des - Doctor of Economics, ces - Candidate of Economics, and RAN - Russian Academy of Sciences.
***
Funny translations have found their way to many facets of life, including business and politics. Thus, the slogan "Come Alive with Pepsi!" failed in Germany because of its unhappy translation: "Come Alive out of the Grave with Pepsi." And the Taiwanese translation gave even more details: "Pepsi Brings Your Ancestors Back from the Grave."
Time Magazine relates:
In 1965, prior to a reception for Queen Elizabeth II outside Bonn, Heinrich Lübke, then the President of the Federal Republic of Germany, attempting an English translation of "Gleich geht es los" (It will soon begin), told the Queen: "Equal goes it loose." The Queen took the news well, but no better than the President of India, who was greeted at an airport in 1962 by Lübke, who, intending to ask, "How are you?" instead said: "Who are you?" To which his guest answered responsibly: "I am the President of India."


Have a great story about funny translations? Or a photo of a translation that made you smile?
Share it!
What Other Visitors Have Said
Click below to see contributions from other visitors to this page...

Weird Inscription With Ukrainian Word

I've just came across products with this inscription on the Net. The text intends to say: "World's Best Dad", the word dad being written in Ukrainian …
Didn't find what you were looking for? Use this search feature to find it.
Back to Online Language Translation Talk Page
Back to Language Diversity Page
Return from Funny Translations Page to Home Page
_____________________________________________________________________ Website owner: Irina Lychak, self-employed freelance linguist, Russian translator, Ukrainian translator, Kiev (Kyiv), Ukraine