Weird Inscription With Ukrainian Word
by native Ukrainian speaker
(Ukraine)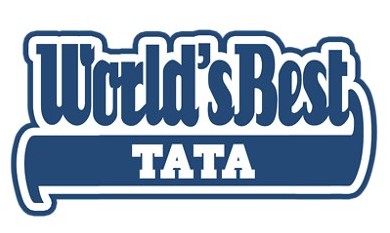 Funny Ukrainian mistranslation
I've just came across products with this inscription on the Net. The text intends to say: "World's Best Dad", the word dad being written in Ukrainian as тата. However, this only Ukrainian word is used in the wrong case.


The nominative case -
тато
- is the case that must be used here. Instead, the word is used in the form characteristic to genitive and accusative cases.
There are a lot of products with this inscription on the Net (t-shirts, shorts, mugs, caps, aprons, pillows, bags, etc.). I wonder why those who created this inscription have not consulted an English-Ukrainian dictionary before printing the inscription on products. It would cost them nothing and would take a few minutes to refer to the dictionary. If they had consulted the dictionary, they would not have the inscription with a mistake that looks funny and weird to any Ukrainian.
What a show of disrespect to the Ukrainian language and to the customers interested in buying products with Ukrainian inscriptions!
The table below demonstrates how the Ukrainian word тато is declined. Red font shows the place of the stress in the word:
| | | |
| --- | --- | --- |
| Case | Singular | Plural |
| Nominative | тато | тати |
| Genitive | тата | тат |
| Dative | тату, татові | татам |
| Accusative | тата | тат |
| Instrumental | татом | татами |
| Locative | на/у таті, татові | на/у татах |
| Vocative | тато | тати |