Language Barrier: Shall We Overcome?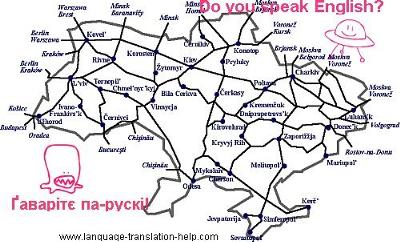 "Ґаварітє па-рускі (i.e. speak Russian)," ticket agents say to foreigners at train and bus stations in Zakarpattia Oblast of Ukraine.


The Euro 2012 is fast approaching. Zakarpattia Oblast is one of the Ukrainian oblasts (provinces) through which European football fans will get to this football event. On the way, they may take an interest in and visit local tourist attractions. Are locals ready to communicate with foreign guests? To answer the question, one has to "turn into" an English-speaking tourist.
To this end, the author of this article together with Tetiana, a student of the Department of Romance and Germanic Philology of the Uzhgorod National University, have visited placed where foreign guests will most likely find themselves. Of course, these have been train and bus stations.
Tetiana comes up to a desk of a train station attendant on duty and asks in English which train to take to get to the town of Chop and when the train will leave. "Speak Russian, I don't understand you," snaps out the attendant and ... closes the desk. The train station attendant makes no attempt to communicate or, all the more, to find an interpreter.
Moreover, a clerk at the booking-office gives us to believe that she don't understand English and that she has no more to say.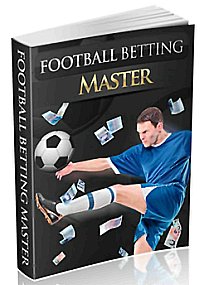 Football Betting Master


What Football Betting Master gives you? A fully explained football betting system, step by step instructions, tips all year long, access to risk free betting blog, and much more. Click here for details!
So we conclude that today a foreigner (if he/she doesn't know a Slavic language) should not bargain on getting any support from the Uzhgorod train station. And this is despite the fact that top management of Ukrzaliznytsia (Ukrainian Railways) has said long ago that transport workers will learn foreign languages for Euro 2012.
We have failed to get through to the management of the train station and find out why they communicate with foreigners in such a "polite" manner.
Our "foreigner" couldn't get any help at the Uzhgorod bus station either. Tetiana in English asked a ticket agent at the bus station whether buses ply between Uzhgorod and the town of Mukachevo. The ticket agent shook her head as a sign of incomprehension and became absorbed in calculations sort of hinting at her unwillingness to continue the conversation.
Well, here, as we can see, a foreigner will be in difficulties too. Once the author of this article witnessed a similar situation himself: a German desperately showed local drivers something on the map. They seemed to understand and got him on the bus that was bound for the town of Svaliava.
The head of the Uzhgorod bus station confirmed that a few of his employees could speak English. At the same time he stressed that the failure to communicate in a foreign language was the problem of the bus station clerk but not the passenger. Therefore, the bus station employees had to try their best to communicate with foreigners. We saw how it worked in practice...
The head of the bus station added that his employees would hardly get a foreign language teacher in the near future. However, he would
happily hire a staff member with good knowledge of English. In addition, he assured that 70% of the bus station employees are fluent in either Hungarian or Slovak. So, there were no language problems at least with passengers from neighboring countries.
Meanwhile, Tetiana in her role of a foreigner approached police officers on Korzo Street. Recently, top management of the Ukrainian Ministry of Internal Affairs said that the staff members will learn European languages. "How to get to the Uzhgorod castle?" asked Tetiana a highway patrol sergeant in literary English. He listened and then gave a cliché answer, "Sorry, but we don't speak English." Well, on the background of answers given by station clerks, we have but to praise the Uzhgorod police officer.
At the Public Relations Department of the Ministry of Internal Affairs of Zakarpattia Oblast, we could not find out how many police officers from our region were to go to foreign language courses on the occasion of hosting of the European football championship by our country. We were told that top management of Zakarpattia police would discuss the issue in Kyiv soon.
The Zakarpattia highway police department could not provide any information about whether they learned foreign languages.
We made phone calls to several Uzhgorod hotels and asked about the availability of and price for hotel rooms. Somewhere better, somewhere worse, but receptionists were able to communicate with the client in English.
According to a local tourism expert, the language barrier in Zakarpattia Oblast is less tangible in Uzhgorod now. The city has three information centers and the staff of these centers can explain a foreign visitor what, where and how. However, the language situation is much worse outside Uzhgorod.
The local tourism expert recalls that he and his colleagues also have conducted a language experiment in the urban-type settlement of Yasinia in Rakhiv District of Zakarpattia Oblast. Their attempts, as "foreigners," to communicate in English with the staff of local hotels and restaurants failed.
Today, the language problem is quite severe even in the tourism sector. The local tourism expert says that there are only about 10 guides who are fluent in English tourist terminology in Uzhgorod. In addition, there is a lack of Zakarpattia tour specialists with good knowledge of German, French, and Spanish. This, of course, affects foreign tourists from respective countries visiting Ukraine.
The local tourism expert believes that in the context of Euro 2012 foreign language courses and training for service employees should be a strategy for local authorities. However, not much has been done on this in our region so far. By the way, we could follow the example of Romania. When Romania joined the EU, even Romanian street cleaners were obliged to learn English - what if a foreigner would ask just them how to get somewhere?
So, is Zakarpattia Oblast with its knowledge of foreign languages ready to invite guests of Euro 2012? It is a rhetorical question, of course. Nothing remains for us but to hope that as we get closer to Euro 2012 Zakarpattia service employees, as well as physicians, policemen, and railroaders will cope with foreign languages at least at the beginner level.
Source (in Ukrainian) is
here
.