Crowdsourcing Translations
Crowdsourcing in the context of translation has become a hot topic, and I would even say a sore and controversial topic, that gets a reaction and irritates many professional translators. By the way, what is YOUR attitude to crowdsourced translations? Share your thoughts!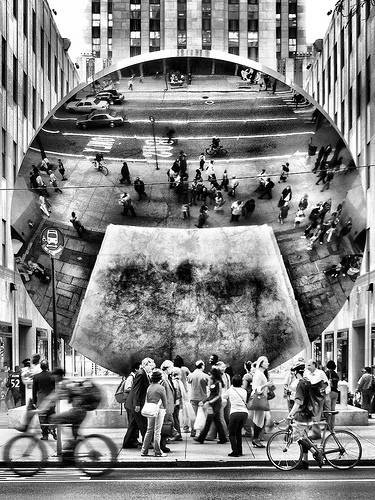 I heard about that newly emerged practice of using the collective wisdom and language skills of a community to translate Web content, but didn't pay much attention to it. I was not interested.
Indeed, why should I? An established translator swamped with work from the World Bank, my major client for many years, I had neither time nor desire to get caught up in the ballyhoo around the concept of translations produced by the crowd until... Until I came across the World Bank's blog post entitled "Crowdsourcing translation?".
With a mixed feeling of interest and anxiety, I read that post trying to figure out how serious the World Bank was about using the collective wisdom for its translations.Photo courtesy of striatic

What would that mean for an army of independent contract translators, including myself, who work for the World Bank all over the world? The blog post posed more questions than it answered, so I had to do further research to find out how good (or bad) the crowdsourcing model would be for professional translators and translation clients. Here are my findings:


What does "crowdsourcing" mean?
"Crowdsourced translation," "community translation," "hive translation," "collaborative translation," "social translation," and "CT3" (community, crowdsourced, and collaborative translation). So many synonyms that mean the same thing:
Getting translation completed in parallel rather than consecutively, via a large pool of bilinguals (either amateur or professional translators, or both) on a volunteer or paid basis.
This process is impossible without a special technology that allows for human and/or automatic translation and subsequent peer review of translated portions of content.
The idea of crowdsourcing translations emerged in response to the inability of neither human translators nor automatic translation engines to produce both speedy and quality translations of the huge amount of digital information.
According to the data available in the article The Continuing Evolution of Automated Translation Technology: RbMT vs. SMT, by Kirti Vashee (PDF file) published in the ATA Language Technology Division Newsletter #4, 2008, pp. 11-19, the amount of digital information created, captured, and replicated in 2006 was "about 3 million times the information in all the books ever written! Between 2006 and 2010, the information added annually to the digital universe will increase more than six fold..."
So content is growing at an incredible rate. Most part of astronomical volumes of content will never reach the hands of human translators. However, the need in information and knowledge remains. How to overcome the language barrier? On the one hand, human translators can guarantee quality, but not instant translations; on the other hand, translation engines translate instantly, but produce low quality output. That's why a combination of the power of machines and humans in crowedsourced translations seems to many a viable solution capable of eradicating the language barrier.


Not as new as it may seem
Jeff Howe, a contributing editor at Wired Magazine, coined and popularized the term "crowdsourcing" in 2006. However, some form of using the crowd's wisdom had already been around for a long time. Several industries used the power of the crowd successfully to outsource different tasks: the solution of specifically defined technical problems, quality control, advertising, product design and marketing.
Crowdsourcing is on the rise today. Innovation goes hand-in-hand with experiment and projects that use the model of crowdsourcing translations are sprouting like mushrooms after a rain. What once was a ripple now is a wave. Just look at a list of businesses and projects that use crowdsourced translations. I have compiled this list within a few minutes after a quick search on the Net:
Google (rely on crowdsourcing to translate their interface into many less common languages)
Cross-Lingual Wiki Engine (content translation that do not rely on professional translators)
Proz.com (used professional translators to localize their website on an unpaid basis, are inviting professional translators to create open source glossaries for free)
Facebook (localized their website and interface with the help of volunteer translators)
Twitter (the same as above plus volunteers translate twitts)
Microsoft (crowdsource editing of machine translation of their knowledge base)
Meedan (use an English-Arabic machine translation engine and human post-editing of machine translation output by bilinguals)
Yeeyan.org (registered users collectively translate news articles from English to Chinese)
Geni.com (crowdsource language translations of the site to volunteers)
Ted.com (subtitling TEDTalks video by volunteer translators)
dotSUB.com (crowdsource translation of subtitles in videos)
Worldwide Lexicon Project (develops open source human/machine translation platforms which allow for human translation performed either by interested bilinguals on a volunteer basis or by professional translators on a paid basis)
Asia Online (use bilingual surfers to edit machine translation output initially post-edited by staff linguists of this company)
This list is far from being exhaustive. Undoubtedly, the powerful crowdsourcing wave will drive the future of the translation industry.


The future
I am not a Nostradamus; however, I'll take the liberty of predicting what is in store for both translation professionals and translation clients.
Translation professionals:
The typical role of professional translators will be challenged. The quality of machine translation output will improve and the pool of motivated bilinguals will increase thus driving crowdsourcing models forward. The bulk of today's professional translators will become post-editors of machine translation output and translations of amateur bilinguals. Professional translators will be increasingly engaged in quality control and terminological roles instead of translating.

However, not all translation work will be handled through crowdsourcing. There will always be documents that require professional translation services. Hardly confidential documents, highly specialized legal and medical texts, etc. will ever be translated by the crowd.
Translation clients:
Translation clients will pay less for translations and will be able to get translations much quicker and in much larger volumes than now. The quality of translations they get will improve thanks to the collective wisdom of actual end users and subject-matter experts involved in making such translations.
What is your attitude
to crowdsourced translations?
Feel free to give us your views on this controversial subject.

A link back to your site or blog will be placed on this site as a "thank you" for your contribution. Please provide your URL in the body of your contribution.


What Other Visitors Have Said
Click below to see contributions from other visitors to this page...

Crowdsourced Translations Powered By Ackuna

Accurate human translations for free. Fantasy? No, reality thanks to Ackuna . Irina Usharenko, a team member of Ackuna, agreed to answer questions of …
Didn't find what you were looking for? Use this search feature to find it.
Back to Online Language Translation Talk Page
Back to Free Language Translation Page
Return from Crowdsourcing Translations Page to Home Page
_____________________________________________________________________ Website owner: Irina Lychak, self-employed freelance linguist, Russian translator, Ukrainian translator, Kiev (Kyiv), Ukraine