Crowdsourced Translations Powered By Ackuna
by Irina Usharenko
(Jersey City, NJ, USA)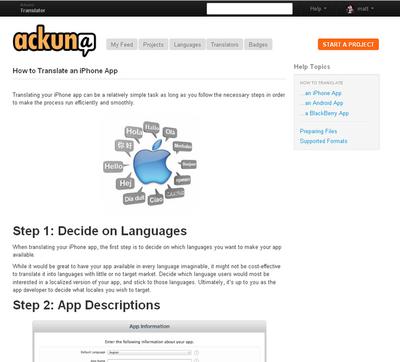 Ackuna: You won't get lost in translation
Accurate human translations for free. Fantasy? No, reality thanks to Ackuna. Irina Usharenko, a team member of Ackuna, agreed to answer questions of language-translation-help.com regarding this rapidly growing crowd-sourced translation service.


1. What can Ackuna offer a person who needs translation? Translation companies offer professional, quality translations of texts of any length and formats into many languages. But the service is paid. Do you offer the same but free of charge?Irina
: We give our users the power. We use a crowd-sourced method which allows user's translations to be peer reviewed and edited until the user is fully satisfied. Although Ackuna offers a free crowd-sourced platform for free translations, our professional translators do get paid when a developer chooses the upgraded "Professional Translation" option instead of the crowd-sourced option.
2. In short, what is the process of getting the translation from Ackuna?Irina:
The first step is giving your project a name; provide a description and a link to the existing app. Then simply upload your source app's files and a crowd of volunteers will translate it until you are satisfied. The text will be returned in the same format with the translations integrated directly into the coding.
Translators can choose their projects by scrolling the projects section by languages required. For each project, the translator will see a list of terms in the original source language, and then submits their suggestion for the translated text. Translations are then peer reviewed and rated based on their accuracy. This method creates an algorithm for the translators to be rated which can increase or decrease their reputations online.
3. Who provide such translations – professional translators, bilinguals, foreign language teachers, students...?Irina:
Ackuna's crowdsourced community is filled with language enthusiasts. Language enthusiasts can consist of professional translators, bilinguals, foreign language teachers and students.
4. How the quality of the crowdsourced translations is ensured?Irina:
Ackuna has incorporated quality control measures within the system. All of our translators receive Reputation points online. Reputation is a gauge of how trusted someone is on the site based on their translations. When a project is uploaded, the user sets the number of votes required to determine if a translation is accurate. The community can then either submit a translation if there aren't any yet, vote on someone else's submitted translation, or if they don't think what's there already is correct, submit their own translation. Then other user's can vote on which is the most correct translation.
Any translation that is submitted receives (or is deducted) Reputation points based on how well their translation is received by the other users. The higher a translator's reputation, the more trustworthy they are (and the more likely their translations are accurate).
We also issue Badges which are marks of distinction and awarded to translators for completing various tasks on Ackuna. The more active a translator is on Ackuna, the more badges he/she earns and unlocks. From the translator's viewpoint, Ackuna is a great community to show their skills and promote themselves as a trusted translator. Once a translator proves themselves,
they can also qualify to work as one of the paid translators that would handle a professional translation project (one of the upgraded options we offer).
5. What languages do you translate from/into?Irina:
Ackuna translates in over 20 different languages including, Arabic, English, Hebrew, Japanese, Portuguese, Thai, Chinese-simplified, French, Hindi, Korean, Russian, Turkish, Chinese-traditional, German, Indonesian, Norwegian, Serbian, Vietnamese, Dutch, Greek, Italian, Polish and Spanish. We will continuously add more languages based on popularity and user needs.
6. What file formats do you handle?Irina:
Ackuna works with 10 different file formats including .String (iOS), .XML (Android), .RRC (BlackBerry), .XLF, .Properties, .YML, .RESX, .PO, .XLF and even .XLS and XLSX.
7. What topics do you cover? Do you accept highly technical texts, e.g. medical or financial, for translation?Irina:
Ackuna specializes in game development but our professional option does accept highly technical texts such as medical and financial translations.
8. On average, how long does it take to translate a short text (let say less than 100 words) and a long text (2000+ words)?Irina:
On average, for crowdsourced short text it takes 24-48 hours depending on how much the developer promotes his app. For crowdsourced long text it can take 5-7 days. Our professional service is 24 hours for short text and 24-48 hours for long text.
9. Is crowdsourcing translations to Ackuna completely free for the users of this service?Irina:
Although Ackuna offers a free crowd-sourced platform for free translations, our professional translators do get paid when a developer chooses the upgraded "Professional Translation" option instead of the crowd-sourced option. But yes, Ackuna is completely free for its users if they choose the crowd-sourced option.
10. If yes, what is the motivation for those who provide translations to participate? They work (i.e. translate) but do not get payment for their work. How do they benefit from their participation?Irina:
Ackuna is a community where language professionals and amateurs work side by side, so to speak, and perfect their craft in the process. Students are actively engaged on the site because they receive feedback on their translations. Other more experienced translators are then more engaged since most people derive an intrinsic pleasure when sharing their knowledge and helping others.
Ackuna provides the platform, utilizing real-world apps and games for which they see their work put to use. It's a symbiotic relationship of sorts between developers and translators in which everyone benefits while helping to narrow the language gap online.
11. There are other projects offering crowdsourced translations. What makes Ackuna different from them?Irina:
Ackuna has been designed so that the more people who use the platform, the faster and more accurate the translations become. We have incorporated a Translation Memory into the system, so that when a translation is verified to be accurate, it saves the translation in the system for future use. This is particularly useful for app developers, since many of the same words are universally used in a lot of apps. If those words appear again for the same language, the developer automatically receives the saved translation instantly.