Translation sites may help to find
a translator you need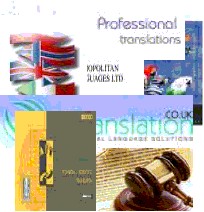 Where to shop for professional interpreting and translation services? On translation sites.
Translation and interpreting as services are provided by thousands of translation and interpreting companies across the globe.
And with rapid developments in technologic, economic and social environments, these types of services are increasingly in demand. So the number of providers grows.
Of course, you can start your search by contacting a local professional association of translators and interpreters, an embassy, a chamber of commerce, or by looking in a local newspaper, business journal, and telephone directory.
The other way is to rely on word of mouth. Ask your family and friends, your colleagues at work, about a good provider of translation or interpreting services. If they can recommend a seasoned provider delivering value, consider this recommendation in the first place.
However, the quickest and easiest way to find tons of information about interpreting and translation services is through the internet search. With one click of the mouse, you will get numerous and various links to websites related to translation and interpreting. The only problem here is how not to get lost in this ocean of information but to fish out a pearl of knowledge you need.
***
I'll tell you about two translation sites that, in my opinion, are worth attention of people who look for professional translators and interpreters to do language related jobs.
The first one is ProZ.com. With a very large community of translators and interpreters, this translation site is a gold mine for locating language professionals.
In terms of finding translators and interpreters, Proz.com offers two options free of charge. You can either post a job with the detailed description of your translation/interpreting needs, or search directories of professional translators, interpreters and translation companies.
Job posting system. You have to register before posting. Registration is available in English, Chinese, German, Dutch, French, Hungarian, Brazilian Portuguese, and Russian. The job posting includes details of the job, language pairs, subject field, delivery deadline, quoting deadline, service provider requirements, etc. At the bottom of the job posting form, you will find a link to the job posting FAQ. Please read them before proceeding with the form.
In response to the job posting, interested language professionals who meet the job requirements submit quotes to the poster. The poster then chooses one or more service providers for the job and contacts them directly. No commission will be charged by ProZ.com.
Another feature offered by Proz.com is so called "turn-key translation". You can get to it through a job-posting page (http://www.proz.com/post-translation-job) and use it for quick translation of small texts by professional translators. It allows not to waste time in search of a suitable translator and not to waste money on project management.
Directories.
Basic directories:
Freelance translators and interpreters. This directory has over 250,000 registered translators and interpreters from around the world. It is possible to use over 20 search criteria to find the professional you need. As language professionals registered on this site have either membership accounts or free accounts, search results will be broken accordingly into two sets of results: paying members and registrants with free accounts.
Translation companies. This directory has almost 30,000 translation companies. Search criteria include location, languages offered, services offered, subject areas, standards/certifications, etc.
Additional directories:
Translation teams. Freelance translators form teams to do jobs. There are over 500 teams in this directory. The search is possible by source language (a language in which the original is written) and by target language (a language into which the original should be translated).
Translator organizations.The directory of organizations serving the translation industry that includes professional associations, translation and interpreting schools, government organizations, organizations that offer credentials, and organizations that offer training.
Student translators. A listing of ProZ.com student members. To contact a student, you should open his/her profile.
One more worth-while translation website is TranslatorsCafé.com. On this site, you can post a job or find a translator or a translation agency. All this is free of charge. You must be registered to post a job (translation, interpreting, voice-over, editing, proofreading, or educational). Fill out a job posting form according to instructions available on the site and submit it.
A directory of freelance language professionals available on TranslatorsCafé.com has more than 90,000 registrants. Its search criteria include language pairs, location, specialization, software used, services offered, etc. The other directory is a directory of translation companies. There are about 5,000 translation and interpretation companies in this directory. An alphabetical and keyword searches are possible.
***
You will find many good translators/interpreters/companies on the above translation sites. Base your choice not only on the price quotations offered by language professionals but also on other strong points (such as native speaker competence in the target language, location in the target country, specialization in the necessary subject area), as well as on the professional record, references provided and results of test translations (if applicable).
Didn't find what you were looking for? Use this search feature to find it.
Back to Language Translator Page
Return from Translation Sites Page to Home Page
_____________________________________________________________________ Website owner: Irina Lychak, self-employed freelance linguist, Russian translator, Ukrainian translator, Kiev (Kyiv), Ukraine